Black Friday
Massage Sale!
60 & 90 Minute Massages 20% Off!
Valid from 11/24 to 11/28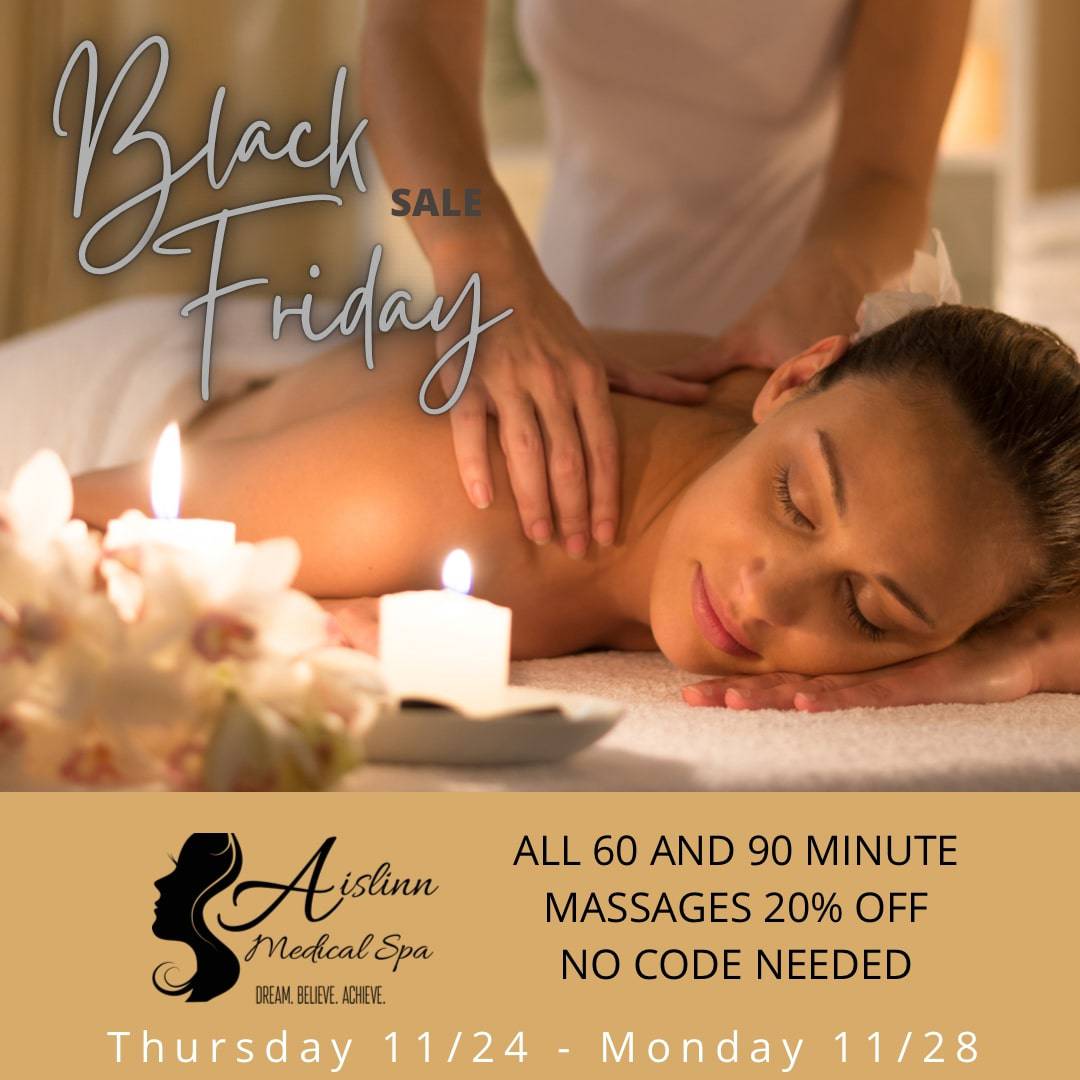 | | | | | | |
| --- | --- | --- | --- | --- | --- |
| | | Also known as Therapeutic massage, this technique is geared towards athletes of any kind. The Sports massage can help prepare muscles for exercise or repair muscles after exercise. It is a similar experience to the deep tissue massage, while also including stretching, This assists in preventing injury and can speed up recovery time. | | | |
| | | If you're looking for a relaxing spa-like massage, the Swedish massage is likely what you'll find.  An overall calming and soothing experience with longer flowing and gliding massage strokes, the Swedish massage helps stimulate nerve endings and increases blood flow and lymph drainage. This is usually a full body experience, but can be customized to your needs. | | | |
| | | A Deep Tissue massage offers stronger pressure, realigning deeper layers of muscles and fascia (connective tissue). This massage technique is helpful for chronic aches and pains by working with shorter and deeper strokes. | | | |
| | | 60 minutes Prenatal massage is a  healthful way to relieve aches and pains associated with pregnancy, while also contributing to overall wellness. Typically, Swedish massage technique is used, but can be adjusted for your specific needs. While massage during pregnancy is considered a safe and helpful tool, please consult with your physician prior to receiving a prenatal massage. | | | |
| | | Hot Stone massage can be used on it's own or as an addition to one of the other massage techniques we offer. The use of hot stones helps to relieve muscle tension and pain and can reduce stress and anxiety. Strategic placement of our water-heated stones promotes deeper muscle relaxation, lending to an overall relaxing experience. | | | |
| | | Cupping therapy is an ancient form of alternative medicine in which a therapist puts special cups on your skin for a few minutes to create suction. People get it for many purposes, including to help with pain, inflammation, blood flow, relaxation and well-being, and as a type of deep-tissue massage. | | | |
| | | 60 Minutes Begin your experience with a whole body exfoliation. Enjoy your massage with a blissful blend of essential oils and massage cream to promote hydration, followed by a body wrap & relaxing scalp treatment Available Now! | | | |
| | | Himalayan salt stones are a great tool to help create proper tension relief. They resonate at the same frequency as the earth which counters the artificial wavelengths put off by the electronics in our life and promotes greater health and overall rebalancing. | | | |
Hurry! These deals are only available for a limited time!